Nominees for EPA, USDA Undergo Senate Confirmation Hearings
Oct 10, 2017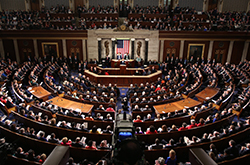 (October 10, 2017) – As the Trump administration rapidly approaches one year in office, many senior-level agency positions remain vacant. Last week, the Senate Environment and Public Works Committee questioned several EPA appointees, including David Ross, who has been tapped to lead EPA's Office of Water. Drawing on years of experience in both the public and private sector, Ross did not encounter the same level of intense questioning as some of the other EPA nominees. Ross re-affirmed his commitment to cooperative federalism, and pledged to work with all stakeholders to advance the mission of the Office of Water.
Also last week, Bill Northey, the President's nominee for U.S. Department of Agriculture (USDA) Under Secretary for Farm Production and Conservation (FPAC), appeared before the Senate Committee on Agriculture. A fourth-generation corn and soybean farmer, Northey is currently serving as Iowa Secretary of Agriculture. During his tenure in Iowa, he has developed a reputation in the conservation community as a strong proponent of voluntary water quality efforts, and NACWA has previously given him an award for his important work in this area. As Under Secretary for FPAC, Northey would oversee three critical USDA agencies including Natural Resources Conservation Service (NRCS), which many NACWA members interact with through working in their watersheds with farmers and landowners. He would also oversee USDA's Farm Service Agency and Risk Management Agency.
The full Senate is expected to consider the Ross and Northey nominations in the coming weeks.