NACWA Comments on EPA Stormwater Guide
Apr 4, 2017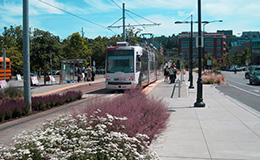 NACWA submitted comments on March 30 regarding EPA's draft document Community Solutions for Stormwater Management: Guide for Voluntary Long-Term Planning. NACWA believes the EPA guide is a practical start for communities looking to address stormwater planning, but suggests EPA revise the guide to include more comprehensive information and solutions that address local stormwater planning obstacles.
In the comments, NACWA recognized that many communities across the country are only now beginning to understand stormwater and how to manage wet weather issues. EPA should work with states and municipalities to help develop holistic tools that reflect successful integrative planning and asset management techniques at the local level.
If members have any questions or comments, please contact Emily Remmel, Director, Regulatory Affairs and Outreach.