Member Spotlight
Great Lakes Water Authority's One Water Regional Public Education Program
Jan 15, 2020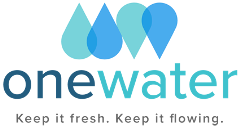 In collaboration with the Southeast Michigan Council of Governments (SEMCOG) and the Freshwater Forum at the Cranbrook Institute of Science, the Great Lakes Water Authority (GLWA) created a comprehensive education program – the One Water Campaign. The highly visible and engaging regional campaign was designed to raise awareness of and generate appreciation for water resources and infrastructure topics including drinking water, wastewater, stormwater and the connection of these to the blue economy, recreation, quality of life and economic prosperity in Southeast Michigan.
The campaign used coordinated educational messaging touching on drinking water, wastewater and stormwater, which was rolled out simultaneously through social media, digital and website, videos, radio, TV, outdoor (billboard/bus) advertising, print and giveaway items. The goal was to permeate the region during a one-week blitz campaign to not only generate an awareness of the value of the region's water resources, but also an understanding of individual actions that can be taken to protect and restore local rivers, lakes and streams.
The Campaign messaging focused on the "One Water Cycle," and covered two themes – Keep it Fresh (stormwater and drinking water) and Keep it Flowing (wastewater).
Stormwater messaging focused on having only rainwater go down the storm drain, as well as preventing chemicals, pet waste and other pollutants from entering the sewer/stormwater system. Wastewater messaging centered on the region having an abundance of freshwater and how important it is for the public to play their part in protecting it by not disposing of "flushable" wipes down the toilet or pouring fats, oils, and greases down any household drain. Drinking water messaging worked to gain support for infrastructure improvement by creating an understanding of what communities are doing to ensure the safety of the water delivery system.
The Great Lakes Water Authority's One Water Campaign will receive NACWA's 2020 National Environmental Achievement Award in the Public Information & Education - Educational Program category during a ceremony held in conjunction with NACWA's 2020 Winter Conference in Atlanta. Congratulations to GLWA and everyone involved!