NACWA, WEF Support DC Wipes Law with Amicus Brief
Nov 14, 2017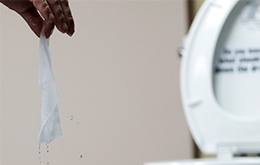 (November 14, 2017) - NACWA and the Water Environment Federation (WEF) filed an amicus brief on November 13 to support DC's Nonwoven Disposable Products Act of 2016, the first law in the US to address the problems caused by flushable and non-flushable wipes. Kimberly-Clark Corporation, a leading manufacturer of flushable wipes and a member of INDA—the association of the nonwoven fabrics industry—filed a lawsuit in federal court on September 15, seeking to thwart the law, which is set to take effect on January 1, 2018. The wipes industry previously tried to lobby members of Congress to attach a rider to the Fiscal Year 2018 federal appropriations bill, in order to override the action of the DC Council, but this effort failed.
Kimberly-Clark alleges numerous constitutional claims, arguing that the DC wipes law violates the Commerce Clause because it attempts to regulate commerce beyond city limits. The complaint also alleges First Amendment violations, claiming an unlawful restraint of speech and that the government is violating the Constitution by compelling disclosure of something other than "purely factual and uncontroversial information about the good or service being offered."
The NACWA and WEF brief refutes these Constitutional arguments and provides information about the problems that utilities all over the country are experiencing due to flushed wipes. The problems with the voluntary INDA flushability guidelines were also explained. These guidelines were created without meaningful input from wastewater experts, and the test methods do not represent real-world sewer conditions, nor have pass/fail criteria that are protective of wastewater equipment.
Oral arguments for the preliminary injunction will be held on December 13. NACWA will notify members of the outcome, and the potential impact on other state and local legislative efforts related to wipes.