Diane Taniguchi-Dennis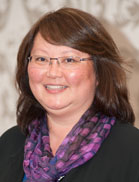 Chief Executive Officer
Clean Water Services
Hillsboro, OR
Diane Taniguchi-Dennis is committed to creating sustainable and livable communities by finding collaborative water resources solutions to leverage new opportunities for the region and local communities. She has comprehensive career experience in public infrastructure program management including developing and implementing utility management systems, utility planning and financing, Capital Improvement Program development, engineering design and construction, utility operations and maintenance, and development of public policy for local government.
Diane Taniguchi-Dennis serves as Chief Executive Officer for Clean Water Services in Oregon, where she manages the day-to-day operations of the water resources management utility providing wastewater and stormwater services to more than 600,000 customers in urban Washington County.
Previously, Taniguchi-Dennis served as Public Works Director for the City of Albany where she has earned a national reputation for her leadership and innovative approach to managing water, wastewater, drainage, and transportation systems. During her 12-year tenure with Albany, she was instrumental in forging collaborative relationships with municipal, business and community partners to complete the two largest public works projects in Albany's history—the Albany-Millersburg Water Treatment Plant, and expansion and renovation of Albany-Millersburg Water Reclamation Facility. Under Taniguchi-Dennis' leadership, Albany also built the innovative 40-acre Talking Water Garden wetland to treat and cool water from the reclamation facility before returning it to the Willamette River. Talking Water Gardens was recently awarded the Environmental Protection Agency's PISCES Award for performance and innovation and the American Academy of Environmental Engineering's Excellence in Environmental Engineering Award.
Taniguchi-Dennis is a licensed Professional Engineer in the State of Oregon and a Board Certified Environmental Engineer. She holds a Bachelor of Science in Civil and Environmental Engineering from Cornell University and a Master's of Business Administration from the Atkinson Graduate School of Management at Willamette University.