Mount Pleasant Waterworks Finds New Purpose for Historic Water Infrastructure
Mar 16, 2022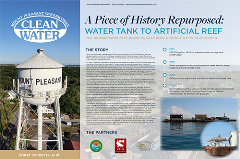 Mount Pleasant Waterworks (MPW) in South Carolina provides water and wastewater service to over 90,000 people in the Town of Mount Pleasant. Rooted in history, the coastal town of Mount Pleasant is located east of the Charleston Peninsula, and has ties to the maritime industry, the Revolutionary and Civil Wars, and African American settlement communities. In 1934, MPW constructed an elevated water tank in the Old Village neighborhood to improve water system pressure and enhance the quality of life. For almost 90 years the 100,000-gallon tank stood approximately 140 feet tall and served as critical infrastructure for the growing town of Mount Pleasant.
As Mount Pleasant's population grew and water demand increased, the Old Village water tank was decommissioned in the mid-1990s to make way for larger capacity ground storage tanks. Instead of removing what many residents viewed as a historic structure, MPW found a new purpose for the tank by contracting with cellular service providers to use the tank as a location for their antennas. However, in 2018 a structural analysis report revealed significant structural concerns highlighting the potential for failure during a high wind event.
Acknowledging the emotional ties the community had to the Old Village water tank, MPW explored opportunities to preserve the memory of the tank while advancing its mission of protecting the environment and water resources. Another consideration in the removal of the tank was finding a cost-effective solution to meet MPW's mission. Fortunately, the answer came by way of an innovative partnership with the South Carolina Department of Natural Resources (SCDNR).
In September 2021, the Mount Pleasant Old Village Water Tank Artificial Reef was completed. The reef consists of a 250-foot retired barge, 12 shipping container boxes, and the Old Village water tank. The items were welded together to include cave-like passages and other unique spaces to benefit a variety of marine life and enrich the diving experience. Additionally, a life-sized concrete replica of a great white shark was constructed to provide an additional point of interest for divers. The reef was submerged in 60 feet of water approximately 10 miles offshore where it is easily accessible to the public. Soon, MPW plans to host a community fishing tournament at the artificial reef site. The tournament will be promoted in the community and serve as an opportunity to teach the importance of protecting the environment and natural resources as well as the value of clean water.
NACWA awarded the Mount Pleasant Waterworks a 2022 National Environmental Achievement Award in the Operations & Environmental Performance category for its creative repurposing of a beloved, historic water infrastructure. Congratulations to everyone involved!