NTMWD Develops a Resourceful Solution to Workforce Needs
Feb 3, 2022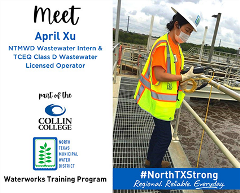 The North Texas Municipal Water District (NTMWD) provides vital water, wastewater and waste management services to more than 1.8 million people in 10 counties. Since its inception more than six decades ago, the NTMWD has collaborated with North Texas cities and communities on the design and operation of their systems.
The certified water and wastewater operators who operate and manage the treatment plants and transmission/conveyance systems, serve a critical role in protecting public health. Due to recent historic growth in the north Texas area, the NTMWD has had to augment its workforce to accommodate for the explosion in population. Beyond its regional challenges, NTMWD recognized the broader challenge facing the water sector, with thousands of professionals nationwide due to retire in the coming decade and no clear pipeline for the next generation of certified operators to step in and fill those roles.
To combat these challenges, the NTMWD partnered with Collin College to provide a pathway for students interested in working in water and wastewater operations. The Waterworks Program, which launched in 2019, helps develop a pipeline of future employees critical to supporting NTMWD's fast-growing North Texas region.
The program prepares individuals for a Texas Commission on Environmental Quality Class D Wastewater or Class D Water Operator License and offers a 5-week paid internship. Students take a series of classes culminating in a Class D Water or Class D Wastewater license awarded by the Texas Commission on Environmental Quality (TCEQ). Following the training and licensure attainment, participants will have the opportunity to gain on-the-job experience with a five-week internship at the District.
NACWA awarded the North Texas Municipal Water District a 2021 National Environmental Achievement Award in the Workforce Development category for its resourceful solution to staffing needs. Congratulations to everyone involved!