The Great Lakes Water Authority's Quest to Educate the Public on "Flushable" Wipes
Oct 14, 2021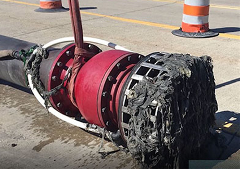 The Great Lakes Water Authority's (GLWA) collaborative relationship with its member partners and other stakeholders is the bedrock of its operating philosophy, strengthened through development of various common projects and initiatives. A key example of this collaboration is in the development of public education materials and videos to educate the public on clean water good practices.
One topic of particular interest has been the issue of "flushable" wipes. Too often the public sees the word "flushable" on a package of personal care or cleaning wipes and does not think twice about flushing them down the toilet and into the sewer system (even though they are not biodegradable). This can wreak havoc, causing costly damage to sewer infrastructure and increasing the possibility of sewer line back-ups into homes.
In response to member partner concern, GLWA conceptualized and produced a four-minute video designed to educate the public on this issue, which is critical to all One Water utilities. The video helps people understand the link between their individual action of flushing the wipes and the real-life consequences that action can have on the regional wastewater system.
Using a series of interviews and engaging imagery to grab the viewers' attention, the video lays out the case of why "flushable" wipes should always be thrown in the trash and never sent down the drain. It helps make real to viewers that even if they are not personally impacted by a back-up caused by the build-up of flushable wipes in their home's plumbing system, they may eventually see evidence of the cost in the form of raised sewer rates (due in part to major improvements needed to address the damage to the large system).
GLWA is committed to continuing to work with its member partners to identify issues critical for public education and producing materials, including videos, that have a lasting impact on the viewer, and will make an impact on their future actions. As a result of the success of the collaboration with member partners on the "flushables" video, the Authority has created materials in other key issues areas, including videos on how to determine whether your home has a lead service line, as well as how to test your water for lead and a video explaining the value of water towers.
NACWA awarded the Great Lakes Water Authority a 2021 National Environmental Achievement Award in the Public Information & Education, Video category for its entertaining and educational video on flushable wipes. Congratulations to GLWA and everyone involved!