Elevate Your Water Professionals with Core Leadership
Aug 12, 2021
Your people are the heart, the core, and the future of the clean water sector. Now you have a path for investing in that future: Core Leadership. Core Leadership is a NACWA program in collaboration with Core Consulting that gives your people the leadership and strategic thinking skills and tools they need to grow, innovate, excel and elevate themselves and your organization.
Between now and October 31, you can enroll your water professionals in the next cycle of five unique professional development offerings. Review the offerings below to find the right match for your talent needs or visit www.corewaterleaders.org to learn more.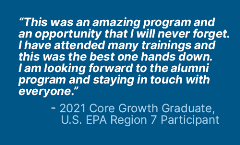 Emerging Leaders Training (Core Growth)
This is a multi-month, multiple touch point program, both virtual and in-person with a structured curriculum designed for emerging leaders looking to build leadership best practices, a strong peer network and industry knowledge. Next class kicks off in December.
Strategic Leader Training
This is a 3-part learning experience, both virtual and in-person, designed for rising strategic leaders who can benefit from shifting from tactical to strategic thinking, learning how to influence multiple stakeholders and gaining greater exposure to executive leaders. This offering requires travel to NACWA's Winter Conference, January 30 - February 3, 2022. This series kicks off in January 2022.
Special Interest Roundtable Groups
This is a 6-month program with monthly 90-minute virtual sessions with a group of industry peers. Roundtables are designed for professionals seeking support from peers to help navigate similar challenges, opportunities and milestones. The following two roundtables will kick off in November:
Women in Water: Women of all levels and areas of expertise
New Team Leaders: Water professionals who have become a new manager within the past year
Leadership Coaching
This is a 12-month virtual engagement for water professionals with specific leadership goals who could use the support of a coach to help accelerate those goals into action. This involves one-on-one coaching calls and the support of an executive sponsor from the coachee's organization. The next cycle kicks off in November.
Consulting and Facilitation Services
This is a service designed for executive leaders and human resource managers who need organizational development and/or facilitation support in the areas of leadership development, strategic planning or team effectiveness. Select your needs from a list of sample projects and get paired with an experienced consultant or facilitator. Project support will be made available as early as November.
Register early to ensure your spot in these offerings! Contact us at info@corewaterleaders.org with any questions or visit www.corewaterleaders.org for more information.