The Great Lakes Water Authority is Winning in Workforce Development
Dec 2, 2020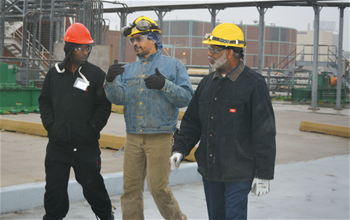 The Great Lakes Water Authority (GLWA) Apprenticeship Program was created with an objective to close a gap in the availability of highly-trained talent to adequately fill skilled trade roles
that are imperative to the Authority's operations. The program began as a three-year partnership between GLWA, Focus: HOPE, a Detroit-based non-profit that provides education and training for underrepresented minorities and Henry Ford College. The program aimed to educate and train 20 apprentices culminating in the completion of 32 course credits, industry certification from Henry Ford College, a Certification of Completion in a US Department of Labor (USDOL) Apprenticeship Program, and full-time employment with GLWA.
The program's inaugural track was designed to hire and train Electrical Instrumentation Control Technicians (EICT-I). The EICT-I apprentices work within various areas of GLWA's water and wastewater operations, are paired 1:1 with a journey worker mentor and rotate within their initial assignment to gain a cross-section of experience. The strategy is for people already doing the jobs to pass down their knowledge to the apprentices.
With the full support and approval of the USDOL, in 2018 GLWA expanded its Apprenticeship Program to include a new three-year, 10-month apprenticeship to train and hire Maintenance Technicians. Like GLWA's original apprenticeship, its second provides on-the-job training and education with full program tuition paid by GLWA. The apprentices work one-on-one with GLWA Journey Workers to learn the various operations within the Authority's system and rotate job locations every six months. They are also exposed to a variety of college courses during their tenure at Henry Ford College, allowing them the opportunity to receive credits toward a college degree.
After completing the program, Maintenance Technicians will continue full-time employment within GLWA in an area for which they have received training and a Maintenance Technician Certification from Henry Ford College. GLWA has provided the educational coursework, on-the-job learning and safety training and awareness needed to assist the apprentices in successful careers.
For this valuable program, the Great Lakes Water Authority was recognized with a National Environmental Achievement Award in the Workforce Development category during NACWA's Winter Conference in February 2020. Congratulations to GLWA and everyone involved!