Art with a Purpose - The City of Richmond's Creative Take on Water Conservation
Aug 12, 2020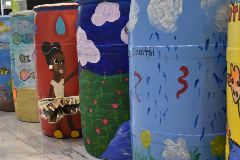 The City of Richmond Department of Public Utilities, in collaboration with Richmond Public Elementary Schools, brought the community outreach RVAH2O Rain Barrel Painting Program to life. The program, designed to engage Richmond's population and educate citizens about water quantity and quality, has proven to be practical and has added to the unique beauty of the City.
Through the program, elementary school students display their creativity and better the community by painting rain barrels that are distributed free-of-charge to Richmond's citizens. The simple installation of rain barrels helps reduce the amount of runoff experienced with each wet weather occurrence and helps to prevent Richmond's stormwater infrastructure from being overwhelmed. This water conservation practice can prevent localized land and street flooding and improve water quality by minimizing the flow in the City's combined sewer system (CSS), thereby helping to prevent combined sewer overflows (CSOs) and the release of raw material into local waterways. The program also positively impacts the James River—which boasts Class III and Class IV rapids as it intersects and flows through downtown Richmond—and the greater Chesapeake Bay watershed.
Information about water conservation and reducing stormwater runoff is distributed to elementary school teachers to incorporate into their curriculum with the rain barrel project. More broadly, information is also displayed on signage and showcased at City Hall and is promoted on Richmond's social media channels and through the City's intranet to over 4,000 employees. With intentional messaging and eye-catching designs, the functional barrels are installed at schools and citizens' homes after a short display period at City Hall—proving to be educational talking pieces and useful water conservation tools.
For its efforts, the City of Richmond Department of Public Utilities was recognized with a National Environmental Achievement Award in the Public Information & Education Educational Program category during NACWA's Winter Conference in February 2020. Congratulations to the City of Richmond Department of Public Utilities and everyone involved!