Hampton Roads Sanitation District (HRSD) Expands Efforts to Educate and Engage with Secondary Students
Jul 15, 2020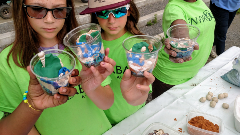 In 2018, the Hampton Roads Sanitation District (HRSD) Communications Department set a goal to engage more middle school and high school students in the HRSD service area. To achieve this, the Environmental Education and Outreach program was restructured to include updated versions of lesson plans suitable for secondary school age students. Prior to these updates, the education and outreach program curriculum were most beneficial to elementary school students.
The HRSD Communications Department serves a population of 1.7 million through communications and education and outreach programs. The programs feature opportunities for students to learn about the wastewater treatment process, the Sustainable Water Initiative for Tomorrow (SWIFT), and human impact on local waterways. The HRSD Classroom is a public source of information and resources related to Hampton Roads wastewater treatment. Lesson plans are strategically designed to supplement and enrich teacher resources and address Virginia Standards of Learning (SOL). Plans are used independently by teachers in their classrooms or by HRSD staff during hands-on classroom visits.
The two lessons revamped—The Amazing Aquifer and Just Throw It Away—were selected based on popularity among students, cost of materials and ease of integration for teachers. During the Amazing Aquifer lesson, students learn about groundwater, SWIFT and the composition of the Potomac Aquifer. In Just Throw It Away, students learn what happens to the substances people "just throw away" in daily water use by making their own wastewater.
Creating an environmental education program specifically designed for secondary school age students has resulted in an increase in outreach and education requests. To promote the program update, the HRSD Communications Department hosted a Teacher Open House for middle and high school science teachers in the HRSD service area. Access to lesson plans is provided on the HRSD Classroom website.
The Hampton Roads Sanitation District was recognized with a National Environmental Achievement Award in the Public Information & Education (Educational Program) category during NACWA's Winter Conference in February 2020. Congratulations to the HRSD and everyone involved!