City of Garland Advances Partnerships Through Communication and Training
Jun 17, 2020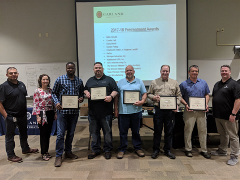 The City of Garland, Texas continually seeks positive ways to make their mark on the community. To improve communication with the Significant Industrial Users (SIUs) located within the city's service area, the City of Garland Industrial Pretreatment Program (IPP) implemented a quarterly electronic newsletter and an annual training opportunity. The newsletter provides regulatory updates and requirements, reminders, and notices of upcoming events. The goal is to inform and educate the SIUs to improve and maintain compliance with pretreatment regulations.
The first newsletter gave an overview of specific self-monitoring requirements and provided a list of items that are required when an industry submits their self-monitoring report. The overview discussed topics such as the due dates for reports, how the samples must be collected, analytical methods required, and a review of the report by the industry. Failure to submit the self-monitoring report correctly could result in a violation, and the newsletter provided the IPP with another method of communication to assist with compliance. Details about the City of Garland Pretreatment Awards and Training Presentation were also highlighted. Subsequent newsletters provided information on the Texas Commission on Environmental Quality (TCEQ) analytical methods update rule and the revision to its Fields of Accreditation (FoAs) for certain analytical methods; common permit violations found by the IPP; a list of industries in the Garland service area with 100% permit compliance for 2018; US EPA pretreatment updates; and other important pretreatment information.
In addition to the quarterly newsletter, the IPP also provides training once per year during the presentation of the IPP awards. Each year's training topic is selected from a survey sent to the SIUs in the service area, offering multiple options. The option that receives the highest response is selected to be the training topic for the next presentation. Past training included self-monitoring requirements and Significant Non-Compliance. The newsletter and training are just two examples of the positive communication and partnership the City of Garland has established with its SIUs.
The City of Garland was recognized with a National Environmental Achievement Award in the Public Information & Education – Printed Publication category during NACWA's Winter Conference in February 2020 for its work with the community's SIUs. Congratulations to the City of Garland and everyone involved!