Knoxville Utilities Board (KUB) Protects the Environment Through Community Outreach
Apr 3, 2020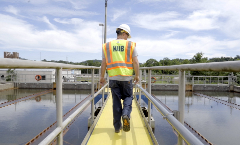 KUB's pledge to provide safe, reliable, and affordable water begins with protecting its community's most valuable water resource: the Tennessee River. With the emergence of stories across the country concerning water contamination and safety concerns, KUB recognized a proactive approach to community education and awareness was necessary to adequately inform its ratepayers of the ways in which they can help protect their source water.
To spread awareness about the importance of the river as it relates to water quality, KUB developed "The Importance of Clean Water" video for use on social media, KUB's website, and on local television. The video offers a behind-the-scenes glimpse into the water treatment process—from the Tennessee river to customers' taps. Each day, KUB's Mark B. Whitaker Treatment Plant takes in 30 million gallons of water from the river to provide high quality drinking water. To ensure the quality, KUB maintains a state-certified lab where more than 100,000 tests are performed for more than 150 contaminants – far more than required by state and federal law.
The video calls on viewers to do their part to keep the area's water clean and directs them to KUB's website, where they can learn the ways KUB works to clean the river and how the community can help. The website highlights river clean-up initiatives and information on pollution through the wastewater system.
Through the video, KUB was able to effectively reach a broader audience to educate the community on the connection between the river and the water delivered to their homes and businesses, as well as present simple steps they can take to help clean it and keep it clean.
During NACWA's Winter Conference in February, the Knoxville Utilities Board was recognized with a National Environmental Achievement Award in the Public Information & Education - Video category. Congratulations to KUB and everyone involved!