Clean Water Services Advances Watershed Resiliency through Strategic Collaboration
Mar 4, 2020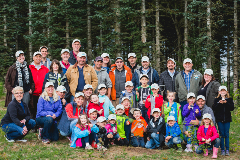 The Tualatin River Watershed in Northwestern Oregon, just west of Portland, is home to only one river. The Tualatin River, a popular place for kayaking and birdwatching, provides agricultural irrigation and is the drinking water source for nearly 400,000 people. Unlike most rivers in the Pacific Northwest, it meanders slowly through nearly flat terrain in its middle and lower reaches and is highly sensitive to temperature and nutrients.
In 2004, EPA granted to NACWA member Clean Water Services a first-of-its-kind permit that included many innovative features – and demanded stringent river temperature requirements to support aquatic life. One way to meet the requirements was to install chilling equipment at the outfalls where Clean Water Services' water resource recovery facilities discharge to the river. This approach could have cost as much as $150 million with limited benefits beyond regulatory compliance.
As a ratepayer-funded organization committed to supporting the region's economy, ecology and community, Clean Water Services knew there had to be a better way. That vision catalyzed the launch of Tree for All. Clean Water Services joined nonprofit organizations; the business community; county government; the 12 cities in the county; and other local, regional, state and national agencies to take a community-based, systems approach to building watershed resiliency.
In its first 15 years, Tree for All has planted more than 10 million native plants, restored more than 140 river miles along more than 25,000 acres and completed more than 700 projects. Tree for All, one of the most successful landscape-scale conservation programs in the country, gives residents a chance to make a hands-on difference through community planting events, while leveraging millions of dollars in resources from multiple funding sources.
Residents and businesses are reaping the benefits of this investment in natural solutions, while paying some of the lowest utility rates in the region. Working at this scale also helps create the watershed resilience needed for stressors like climate change and rapid urbanization.
"Tree for All motivates all of us to literally dig in and plant a climate future that protects and enhances this beautiful place we love and call home," affirms Kathryn Harrington, Chair of the Washington County Board of Commissioners and the Clean Water Services Board of Directors.
Clean Water Services received NACWA's 2020 National Environmental Achievement Award in the Watershed Collaboration category during a ceremony held in conjunction with NACWA's 2020 Winter Conference in Atlanta. Congratulations to Clean Water Services and everyone involved!