DC Water Engages Community Through Art & Creativity
Feb 19, 2020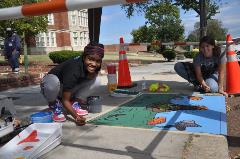 In May 2019, DC Water launched an art contest encouraging District residents to submit designs that communicate the importance of the DC Clean Rivers Project and the need to invest in water and sewer infrastructure in the District. The winners were invited to paint their designs on storm drains in the city. The contest helped highlight the vital role the Clean Rivers Project – the name DC Water gave its combined sewer overflow long-term control plan – is playing in the resurgence of the Anacostia River. To encourage participation by local artists, DC Water offered $500 prizes to five contest winners. The five winners were announced at an event in August at DC Water's new headquarters on the banks of the Anacostia.
DC Water then worked with the artists to choose the storm drains they would paint and provided each of them with supplies. The results were even better than imagined and generated positive news coverage and social media engagement. In addition, District Mayor Muriel Bowser's 202Creates initiative chose to highlight the artists and their work.
DC Water received NACWA's 2020 National Environmental Achievement Award in the Public Information & Education - Educational Program category during a ceremony held in conjunction with NACWA's 2020 Winter Conference in Atlanta. Congratulations to DC Water and everyone involved!