Member Spotlight: Narragansett Bay Commission Evolves Far Beyond Sewage Treatment
Feb 6, 2020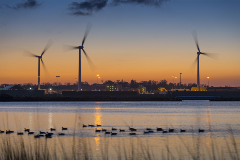 The Narragansett Bay Commission (NBC), Rhode Island's largest wastewater authority, focuses on bold infrastructure improvements, active stakeholder engagement, diligent monitoring of environmental health, and trailblazing renewable energy generation. When the organization was formed in 1980, the NBC transformed Providence's Field's Point Wastewater Treatment Facility from one of the worst performing plants in the nation into an award-winning facility. In 1992, the state entrusted the NBC with the Bucklin Point Wastewater Treatment Facility, located in East Providence, and the NBC has made continual improvements in both service districts ever since.
Among the many advances made, the biological nutrient removal processes, initiated in 2013 and 2014, dramatically reduced nitrogen loads from each facility by nearly 70% compared to the mid-1990s. The NBC also developed a $1.3 billion combined sewer overflow (CSO) Abatement Project, designed to reduce discharges of untreated combined flows by 98%. With the first two phases of this project complete, improvements to receiving water quality have already significantly benefitted the local shellfishing economy and markedly reduced beach closures in upper Narragansett Bay.
The NBC maintains effective partnerships with local developers, environmental groups, academic institutions, and government agencies to meet its goals and enhance the community. The NBC bases management decisions on sound science developed through extensive water monitoring for indicators like nutrients, bacteria and dissolved oxygen. Benthic video monitoring is also conducted to track changes from the nutrients reductions and to show the bay is teeming with sea life. NBC's Snapshot of Upper Narragansett Bay website educates the public by providing access to all monitoring data, reports, videos, and factsheets.
The NBC routinely works with researchers on cutting-edge investigations of bay circulation, emerging contaminants (e.g., PFAS, microplastics), and greenhouse gas emissions from wastewater plants. Innovative education initiatives, like the Watershed Explorers program for local elementary and middle school students, prepare tomorrow's clean water leaders. Also, the NBC has an outstanding sustainable energy portfolio of wind, biogas and solar projects to meet the ambitious goal of becoming "net-zero" for electric use and works with other communities and agencies to assist them in evaluating alternative energy opportunities.
While the main mission of the NBC is to protect water quality in Narragansett Bay by providing safe and reliable wastewater services at a reasonable cost, the agency has evolved far beyond sewage treatment into a water and energy resource agency, an educational resource, a "Utility of the Future."
The NBC will receive NACWA's National Environmental Achievement Award in the Water Resources Utility of the Future category during a ceremony held in conjunction with NACWA's 2020 Winter Conference in Atlanta. Congratulations to NBC and everyone involved!