The City of Prineville's Innovative Natural Wastewater Treatment System
Dec 4, 2019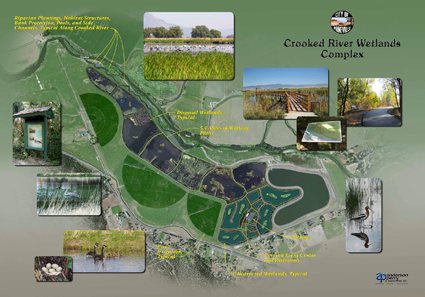 In 2017, the City of Prineville (OR) completed an innovative natural wastewater treatment system project by establishing a 120-acre wetlands complex along the Crooked River. While the complex incorporates effective wastewater treatment, it also serves as an interactive community asset with hiking trails, wildlife observation, and educational kiosks.

Prineville explored alternatives to costly conventional (mechanical) wastewater treatment process expansions and determined the wetlands project was the most cost-effective. The plan averted a 3-fold increase in System Development Charges and a doubling of customer sewer rates. As a result, Prineville remains competitive in Central Oregon for responsible residential and business development.

Features of the Crooked River Wetland project include:

Recreational Opportunities: Amenities abound with over 5.4 miles of new walking, running and hiking trails – 3.25 miles of which are paved for use year-round. A covered pavilion and restrooms make for a charming gathering place before birdwatching or a recreational hiking tour.
Educational Values: Local schools helped to design and manage 13 colorful kiosks, presenting topics ranging from the Crooked River Watershed to macroinvertebrates. The facility is expected to serve many generations of schoolchildren to come.
Environmental Benefits: The implementation of riparian improvements to over two miles of the Crooked River and the construction of over 120 acres of wetlands have returned many benefits for the multiple species of fish and wildlife, including lower river temperatures.

For this $7.77 million project, the City of Prineville provided $4.75 million and received funding from partnering sources and other in-kind support.

The City of Prineville received NACWA's 2019 National Environmental Achievement Award in the Operations & Environmental Performance category for the Crooked River Wetland Project. Congratulations to the City and everyone involved!