Northeast Ohio's Let's Ask Series Connects the Community and Utility
Aug 7, 2019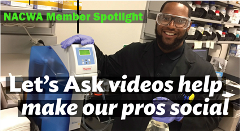 Customer service and community outreach is about relationships, and you can't form a relationship with someone you don't know.
NACWA Member Agency the Northeast Ohio Regional Sewer District (NEORSD) in Cleveland, Ohio, serves one million residents, manages a 420-mile regional stormwater system, and treats more than 200 million gallons of wastewater every day. But behind the numbers are real people who love their work, understand their responsibilities, and want others to take up a similar commitment to their Great Lake.
This passion and honesty inspired a Let's Ask social media video series where followers pose their favorite questions to a featured NEORSD employee using a specific hashtag. No questions are off the table, from "What do you need to study for a job like yours?" to "How do you like your coffee?" and "What's in your lunch today?" As part of the series, NEORSD staff were asked questions, their answers recorded, and their clips shared with thousands of viewers to give perspective on what shapes their daily work.
In their own ways, each interview subject is an ambassador for NEORSD's mission. They represent the departments they serve and the expertise that makes them professionals. Through that combination, they represent the utility. They are here to serve, and through this video series, they are also here to share.
Among NEORSD's employees there is no shortage of engaging professionals. And based on the responses from their followers, there is no shortage of interest or questions to ask, either.
NEORSD's Let's Ask social media video series was honored with a 2019 NACWA National Environmental Achievement Award in the Public Information & Education (e-Media) category.