NACWA Celebrates the Life & Contributions of First President, Tom Gibbs
Jul 10, 2019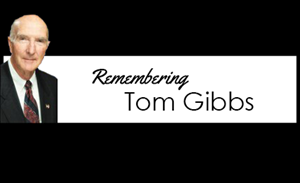 (July 9, 2019) - As NACWA plans to celebrate its 50th anniversary in 2020, the Association is also honoring its founders—and the many incredible people that helped to make the Association what it is today. One such individual was Charles V. "Tom" Gibbs, the first president of the Association of Metropolitan Sewerage Agencies (AMSA)—now known as NACWA.
Tom, in his role as Executive Director of the Municipality of Metropolitan Seattle, was the Chair of the Steering Committee that originally conceptualized, and ultimately created, AMSA in the late 1960s. It was Tom who spearheaded the first meeting of a small group of sector leaders that created AMSA to share the expertise, positions and priorities of the nation's clean water agencies, and to speak to Congress and the federal government with one voice.
This spring NACWA learned that Tom was facing significant heath challenges and reached out to him to express the Association's continuing gratitude, appreciation, and support. Tom passed away on June 19, 2019.
In March, Tom shared these words:
"It was 50 years ago this coming May when I wrote to 13 nationally recognized wastewater executives to suggest we join forces to make sure the nation's large cities were treated fairly in the then developing Clean Water Act. AMSA was created and we had a major role in the drafting of PL 92-500 which contained significant sections we helped write. It's rewarding to see that our early efforts morphed into NACWA with its strong environmental focus."
Tom's vision and contributions to NACWA's success will always be remembered.