Honolulu Entertains and Educates with Award-Winning Video About FOG
Jul 2, 2019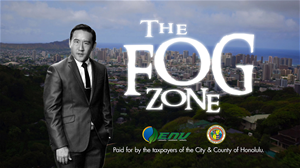 To inform the public on the consequences of fats, oils and grease (FOG) in the wastewater collection system, the Department of Environmental Services, City and County of Honolulu hit the television airwaves with The F.O.G. Zone. Using the television series The Twilight Zone as inspiration, this 30-second educational video informs residents that the proper disposal of grease and other FOG-related foods is in the trash can, rather than down the kitchen sink.
The video is part of an ongoing educational program that includes informational flyers, tip cards, posters, radio spots, event presentations, and other public forums throughout Oahu. Honolulu's Environmental Services Department also takes the FOG. program out to the food processing industry, assisting businesses such as restaurants, bars, schools, hospitals, hotels, supermarkets, meat packing, and other establishments with commercial kitchens in developing best management practices to effectively reduce the discharge of FOG. in the wastewater system.
The effectiveness of the program has been documented by a significant drop in grease-related spills in last several years ─ and The F.O.G. Zone video has received national recognition in the form of both a 2019 National Environmental Achievement Award from NACWA, and a Telly Award for excellence in television and video.