EPA Testifies Before Senate on PFAS
Apr 2, 2019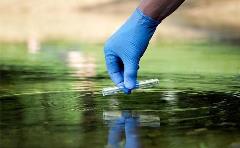 (April 2, 2019) - The US Senate's Committee on Environmental and Public Works (EPW) held a hearing on March 28, entitled "Examining the Federal Response to the Risks Associated with Per- and Polyfluoroalkyl Substances (PFAS)." David Ross, Assistant Administrator for EPA's Office of Water, testified along with Maureen Sullivan, Dr. Patrick Breysse, and Dr. Linda Birnbaum with the Department of Defense, Centers for Disease Control and Prevention, and the National Institute of Health, respectively.
Ross stated that "despite [PFAS] everyday use, the body of science necessary to fully understand and regulate these chemicals is not yet as robust as it needs to be." Recognizing the shortcomings with the current science available, Ross noted "EPA is using and developing cutting edge research and moving forward with regulating mechanisms designed to protect public health and the environment." Further, he noted that PFAS is a "multidimensional problem that requires multidimensional solutions."
Senator Ben Cardin (D-MD) specifically pressed Ross on how EPA plans to address remedial activities and hold those responsible for PFAS contamination accountable rather than putting additional burdens on local governments and ratepayers that already face aging infrastructure and affordability challenges. Ross acknowledged the affordability issue and how the Agency needs to look at drinking water, wastewater, and stormwater holistically through cumulative cost burdens on a single ratepayer.
Ross also mentioned clean-up costs can be leveraged by designating PFOA and PFOS—two of the more prevalent PFAS constituents—as hazardous substances under the Comprehensive Environmental Response, Compensation and Liability Act (CERCLA), but he did not mention how the water sector is to address the high costs associated with advanced treatment when they are not the source.
PFAS continued to gain a lot of attention on Capitol Hill as well. Given this attention, NACWA and WEF put together a one-pager with information on PFAS and related advocacy asks as part of materials for this week's National Water Policy Fly-In.
NACWA continues to advocate that better source control strategies are necessary and for use of existing statutory authority to prevent PFAS from entering water resources in the first place. In addition, EPA should empower the Clean Water Act pretreatment program to help provide municipal wastewater facilities with the authorities necessary to prevent pass-through of these chemicals as well as consider the unintended consequences on wastewater effluent and biosolids with a CERCLA hazardous substances designation.
For more information on NACWA's PFAS advocacy, please contact Emily Remmel, NACWA's Director of Regulatory Affairs.