CASA, NACWA Advocate for Renewable Fuel Standard Changes
Mar 26, 2019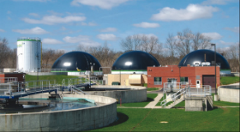 (March 26, 2019) - NACWA and two of its member agencies signed on to a letter from the California Association of Sanitary Agencies (CASA) to EPA Administrator Andrew Wheeler requesting his assistance in making changes to the Renewable Fuel Standard (RFS) program related to food waste and biogas. The RFS program offers incentives for the production of renewable transportation fuels, including fuels derived from wastewater.
Currently, fuels produced from wastewater qualify for cellulosic biofuel designation, which comes with the valuable D3 Renewable Identification Number (RIN). D3 RINs are currently sold at a higher cost than other RINs, resulting in higher profits for utilities that produce transportation fuels from biosolids. However, if food waste is added to anaerobic digesters to increase the production of biogas, all of the fuel produced will receive the D5 RIN for advanced biofuel, which has a lower value.
Although food waste added before the headworks of the treatment plant will not result in the D5 RIN classification, this is not as efficient as adding the food waste at the digester since the energy potential of the food waste is reduced by about 60 percent from the secondary treatment processes.
Many states have or are considering bans on food waste disposal at landfills, and current EPA and Department of Energy initiatives aim to increase energy production at clean water utilities and to improve food waste management. Devaluing RINs for wastewater-derived fuels when biogas production is increased by adding food waste works against these efforts.
NACWA members that currently use or are considering using the RFS, with or without the inclusion of food waste, are asked to contact NACWA's Director of Regulatory Affairs, Cynthia Finley, so the Association can gather more information about the impact of this issue.