EPA Moves Forward with Stormwater, Emerging Contaminant Webinars
Jan 29, 2019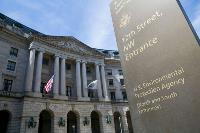 (January 29, 2019) - Now that the Federal Government shutdown has ended, EPA is moving forward with two timely webinars.
EPA's Water Infrastructure and Resiliency Finance Center is hosting a webinar on Thursday, January 31, 2019 on Leading-Edge Stormwater Financing: Improving Return on Stormwater Investments with Crediting and Pay-For-Performance Approaches. Expert panelists including Chad Praul, Erik Michelsen, Dave Smith, and Mo Minkara will discuss stormwater crediting and how communities can get more for their stormwater dollar. Specific case studies will showcase pay-for-performance approaches applied in Tennessee and Maryland.
EPA's Office of Research and Development and the Office of Water have teamed up for their next Small Systems Monthly webinar series on Treatment Technologies for Contaminants of Emerging Concern: PFAS, Cyanotoxins, and Perchlorate. This webinar is postponed until Tuesday, February 26, 2019. The webinar will also include insight into California's treatment approaches for 1,4-Dioxane in reuse and groundwater resources.
Those interested can register for the webinars online: