EPA Nominee Receives Senate Hearing
Jan 22, 2019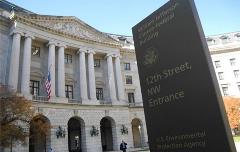 (January 22, 2019) - The current EPA Acting Administrator, Andrew Wheeler, returned to the Senate Environment and Public Works (EPW) Committee last week to testify before Senators at his confirmation hearing. President Trump formally nominated Mr. Wheeler earlier this year to lead the Agency, where he has been Acting Administrator since his predecessor, Scott Pruitt, resigned in July 2018.
Much of the hearing focused on the Trump Administration's regulatory agenda and issues surrounding the current government shutdown, which continues with no end in sight. Democrats challenged Wheeler over what they view as the Administration's efforts to roll back environmental protections, while Republicans pressed him on how the Administration plans to move forward with new regulatory initiatives such as the proposed "Waters of the United States" Rule. Discussion around climate change was also a flashpoint during the hearing.
EPW Chairman John Barrasso (R-WY) said he expects the committee to vote on Mr. Wheeler's confirmation sometime in February, with a full Senate vote to follow.
NACWA looks forward to engaging with Mr. Wheeler on several of our advocacy initiatives, including implementation of the recently passed Integrated Planning legislation and Water Resources Development Act (WRDA)-related priorities.
NACWA will keep members updated on the confirmation process as it unfolds. In the meantime, please contact Kristina Surfus or Jason Isakovic, NACWA's Legislative Directors, with any questions.