Stormwater Management Committee Hosts EPA, Discusses New Stormwater Survey and Ongoing Litigation to Close Out 2018
Dec 11, 2018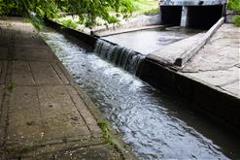 (December 11, 2018) - NACWA's Stormwater Management Committee held its last committee conference call of the year on December 8, and hosted representatives from EPA, Black & Veatch, and AquaLaw to provide updates on several important issues that are happening nationally.
EPA's 2017 Community Solutions for Stormwater Management: A Guide to Long-Term Planning remains in draft form with an expectation to be finalized sometime next year. Asset management continues to be one of the biggest challenges (and surprises for EPA) for the five pilot communities that are using the Guide to develop their long-term stormwater plans.
Black & Veatch also provided highlights of their recently released 2018 Stormwater Utility Survey with more than 75 stormwater utilities weighing in on six focus areas. Funding and public awareness for support of stormwater management continues to be the two highest priorities for those utilities that participated in the survey.
NACWA's Stormwater Management Committee continues to track litigation efforts impacting stormwater utilities. Association Legal Affiliate AquaLaw discussed two residual designation authority (RDA) cases that are currently unfolding – in California and Maryland – where regional EPA offices have dealt with commercial, industrial, and institutional (CII) sources of stormwater pollution differently. NACWA's stormwater advocacy continues with Massachusetts and New Hampshire's MS4 Phase II permits and will likely persist into the new year with Oregon Department of Environmental Quality issuing its final MS4 Phase II permit and response to public comment.
Please contact Emily Remmel, Director of Regulatory Affairs, with questions or if you would like to join the stormwater management committee.