Farm Bill Included Key NACWA Priorities, To Receive Vote As Congress Heads Into Final Stretch
Dec 11, 2018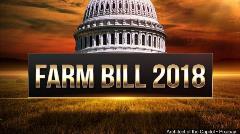 (December 11, 2018) - After several months of wrangling back and forth, late last night House and Senate Farm Bill negotiators finalized a bipartisan agreement on the 2018 Farm Bill Conference Report, which is expected to be voted on and passed in both Chambers of Congress later this week.
The Farm Bill includes several key conservation and water quality provisions that were championed and advocated for by NACWA. Among the key provisions included is a "[s]ense of Congress that the federal government should recognize and encourage partnerships at the watershed level between nonpoint sources and regulated point sources to advance the goals of the Clean Water Act and provide benefits to farmers, landowners, and the public."
This important provision can provide leverage for utilities to gain greater and more appropriate recognition from the federal government for watershed-based investments they are making upstream with farmers and landowners to better meet regulatory obligations more cost effectively and help improve water quality and public health.
Additionally, the bill includes major reforms to the Regional Conservation Partnership Program (RCPP) aimed at making the application process and program easier to use. Since its creation in the 2014 Farm Bill, the RCPP has been an important program available to clean water utilities for watershed-based investments. The 2018 Farm Bill affirms that this collaborative, innovative program should continue and improves how it is implemented.
Also included in the Farm Bill is a greater focus on the protection of source water, and provisions encouraging the use of data to better understand the impacts of conservation practices on farming and water quality.
NACWA will be sending out a more detailed analysis of the 2018 Farm Bill and its impact on the public clean water utility sector in the coming days. The Association is extremely grateful to its congressional champions and partners in the water and agricultural sectors for all their collaboration and hard work to secure this important bipartisan legislative achievement.
Also, Congress agreed upon and passed a two-week spending bill extension last week that averted a government shutdown, and funded federal agencies until December 21. The bill provides Congress with additional time to continue to resolve issues and finalize a Fiscal Year 2019 spending package before Congress adjourns for the year and brings an end to the 115th Congress. NACWA continues to push for the Association's clean water priorities to be included in the final spending package.
NACWA will provide further legislative updates as they occur on the spending package, as well as on any other end-of-year legislation that Congress advances over the next two weeks.
Please contact NACWA's Legislative staff, Kristina Surfus or Jason Isakovic, to discuss further.