Open Call for Utility Stories to Include In Advocate Magazine
Oct 9, 2018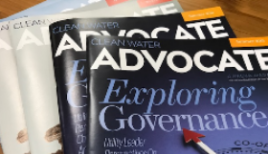 (October 9, 2018) – NACWA's Clean Water Advocate magazine is an invaluable tool for providing important perspectives on the Water Sector's most pressing issues, as well as helping to keep Member Agencies connected and generally telling the clean water utility story. In keeping with this mission, Advocate editors are making an open call to NACWA membership to submit original articles to be published in future issues of the magazine—beginning with its next release in February 2019 (Winter Issue).
Editors are seeking stories specifically about a challenge that a clean water utility/agency has faced or are facing—for example, workforce/workplace issues, affordability, community outreach, operations/infrastructure challenges, new initiatives/innovations, etc.—and what the organization did, or are doing, to overcome that challenge. Perspective about what the agency learned should also be included.

If you're interested in writing for the Advocate, submit your proposals and ideas via email to Tony Viardo, NACWA's Director of Communications and Marketing. Submissions should be brief proposals only, authors are not encouraged to write the complete article yet. Advocate editors will contact those authors whom they would like to schedule into the next issue, or into succeeding ones. Space is limited so authors are encouraged to submit soon.

As ever, NACWA continues to strive to serve its members, and remain an important voice in the larger Water Sector. NACWA believes that voice can and should include yours!