Senate Farm Bill Passes Committee with several NACWA Priorities Included
Jun 19, 2018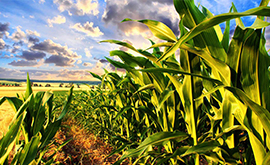 (June 19, 2018) – The Senate Committee on Agriculture passed its bipartisan version of the 2018 Farm Bill last week, which included several key priorities that NACWA and its Farm Bill Working Group have been actively engaging with Congress on for more than a year. NACWA's advocacy has focused on inclusion of provisions under the "Conservation Title" of the Farm Bill that take a holistic approach to addressing water quality at a watershed level by strengthening programs which provide the dual benefit of cleaner water and other benefits to farmers productivity.
One of the key priorities championed by NACWA was an amendment led by Sen. Chuck Grassley (R-IA) that provides a "Sense of Congress that the federal government should recognize and encourage partnerships at the watershed level between nonpoint sources and regulated point sources to advance the goals of the Clean Water Act and provide benefits to farmers, landowners, and the public."
This language can provide an important regulatory tool for utilities to gain greater and more appropriate recognition from the federal government for the resource contributions they are making upstream with farmers and landowners to better meet regulatory obligations more cost effectively. It also has the potential to provide more flexibility around Clean Water Act discharge permits. An identical amendment was included in the House version of the Farm Bill.
The Senate Farm Bill also includes several key changes and reforms under the Regional Conservation Partnership Program (RCPP) sought by NACWA including:
A streamlined application process;
Expedited contract renewal process for projects that meet specific conditions;
Allowing outreach and technical assistance to count towards a utilities in-kind match;
Providing flexibility to allow utilities and not just farmers to be project leads under partnership agreements;
Greater emphasis on conservation outcomes;
New authority for the Secretary of Agriculture to enter into partnership grant agreements with eligible partners, including utilities, to address watershed concerns related to infrastructure, water quality or quantity, innovative conservation practices, and water protection strategies; and
$200 million annually in RCPP funding, double that of the current level
The Senate Farm Bill also includes several other provisions and funding sought by NACWA that aim to provide increased water quality through conservation efforts. Specifically, the bill incentivizes the adoption of key agricultural best management practices, such as cover crops, through increased Conservation Stewardship Program (CSP) payments levels; authorizes a CSP payment for financial and technical assistance to support the development of comprehensive conservation plans; and encourages the adoption of conservation activities within CSP, as well as the Environmental Quality Incentives Program (EQIP), that protect sources of drinking water.
It also increases funding for the Agricultural Conservation Easement Program (ACEP) to $450 million per year by 2023. This provides additional funding to preserve working farms and ranches, and restore, protect and enhance wetlands and grasslands through long-term easements.
Also included is a provision aimed toward improving agriculture data research of conservation practices, which helps farmers reduce risk and increase profitability by directing the secretary of agriculture to collect, collate, integrate, and link data that is related to the impacts of covered conservation practices.
Lastly, the bill requires a USDA review of conservation practice standards to evaluate the possibilities of increased flexibility that can better help address the backlog of recognized beneficial precision conservation practices to improve water quality.
Senate Majority Leader Mitch McConnell (R-KY) announced during the markup that the Senate Farm Bill is expected to be brought to the full Senate for a vote before the Fourth of July recess. House Republicans are currently working within their caucus to come to agreement on unrelated immigration legislation that will pave the way for a re-vote on the House version of the Farm Bill, also before the July 4 recess.
NACWA appreciates the strong collaboration with Members of Congress and their personal offices and Agriculture Committee staff to ensure inclusion of these key NACWA priorities which are crucial to the entire clean water sector. NACWA looks forward to continuing engagement with both the Senate and House as Congress works to advance a five-year reauthorization of the Farm Bill prior to the September 30 expiration deadline.
For more information on NACWA's Farm Bill efforts, please contact Jason Isakovic or Kristina Surfus, NACWA's Legislative Directors.