Report Identifies Benefits, Barriers to Water Workforce Jobs
Jun 19, 2018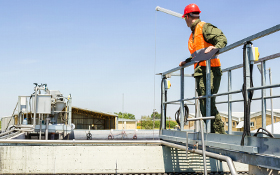 (June 19, 2018) – A new report released June 14 by the Brookings Metropolitan Policy Institute provides a first-of-its-kind analysis of jobs involved in the construction, operation, and maintenance of the country's water infrastructure. Nearly 1.7 million workers fill jobs in utilities, construction firms, and numerous other employers across the water sector, and the report finds that workers in the water sector general face lower educational barriers to entry and earn more competitive pay.
The report, entitled Renewing the water workforce: Improving water infrastructure and creating a pipeline to opportunity, finds that jobs in the water sector pay well–not only on average, but also up to 50 percent more to workers at the lower end of the income scale. The research also shows there is a clear opportunity for these infrastructure jobs to draw from a younger, more diverse workforce. Thousands of water workers, including water treatment operators, are almost four years older than the national median age (42.2 years old) across all occupations; women make up only 14.9 percent of the water workforce, compared to 46.8 percent of all workers nationally; and black and Asian workers only represent 11.5 percent of the water workforce, compared to 18 percent of all workers nationally.
In addition to measuring the sizable economic impact of water workforce jobs, the report also offers a new policy playbook that local, state, and national leaders can use in future water workforce development efforts. This playbook calls for several actions:
Utilities and other water employers need to empower staff, adjust existing procedures, and pilot new efforts in support of the water workforce.
A broad range of employers and community partners need to hold consistent dialogues, pool resources, and develop platforms focused on water workers.
National and state leaders need to provide clearer technical guidance, more robust programmatic support, and targeted investments in water workforce development.
A number of NACWA utility members were involved as case studies in the report and played a critical role in developing it. The overall report was strongly supported by the Water Agency Leaders Alliance (WALA), which is comprised of NACWA utility members. NACWA staff also participated in discussions around the report and provided input on draft versions.
The document will provide an important and much needed resource around current critical discussions about water workforce issues and challenges. A formal event featuring a number of NACWA members will be held by Brookings on June 21 to discuss the report.