2018 Utility Leadership Conference to Explore Utility Governance
Jun 19, 2018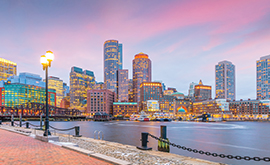 (June 19, 2018) – Registration is still open for NACWA's 2018 Utility Leadership Conference & 48th Annual Meeting (ULC), which is set to be one of the most high impact clean water events of the year.
With the central theme, Management & Governance for a Sustainable Clean Water Future, the Conference will be focused on helping utilities innovate solutions in the midst of emerging governance issues and striking the right balance among public, private and peer-to-peer solutions to meet utility needs and the needs of the entire clean water sector. (See ULC's agenda for session topics).
The Conference will also feature a number of committee meetings jam-packed with all the latest clean water information and developments you need to know, along with an excellent opportunity to network with other clean water professionals from around the country.
Set in the Boston Marriott Copley Place in the heart of downtown Boston, MA, this year's ULC is one you cannot afford to miss! Make your plans and register today!