NACWA Brings Clean Water Message to Massachusetts
May 22, 2018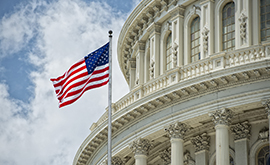 (May 22, 2018) – NACWA participated in the Massachusetts Coalition for Water Resources Stewardship's (MCWRS) annual Water Resources Strategies Symposium on May 18, providing a national update on key clean water policy issues. The Association covered a number of current topics including infrastructure investment, integrated planning, nutrients, stormwater, blending, and various litigation developments. NACWA also thanked its Massachusetts utility members for their continued support of the Association's advocacy priorities.
Another important topic of discussion at the meeting was the ongoing federal litigation involving a new stormwater permit for Massachusetts communities. NACWA is currently supporting MCWRS's participation in that litigation, which could have significant impacts on other stormwater utilities nationwide.
NACWA is always willing to participate in state and/or regional conferences of its clean water partner organizations. If you are interested in NACWA participating in you state or regional meeting, please contact Erica Spitzig.