Meeting Draws Utility Leaders in the Great Lakes Region
May 15, 2018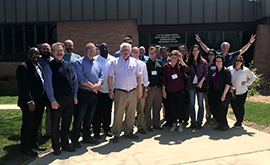 (May 15, 2018) - NACWA hosted 70 utility leaders and affiliates at the Great Lakes Regional Utility Forum on May 7-8, to discuss a variety of issues impacting the region. The Forum featured a keynote address from Cathy Stepp, EPA Region 5 Administrator, in which she shared her vision for cooperative federalism, and resetting the relationship between Region 5 and the regulated community. As a former Secretary of the Wisconsin Department of Natural Resources, Ms. Stepp drew on her experience engaging with the Region in the past and talked about her thoughts on how work at the Region could improve. Ms. Stepp also participated in a lengthy Q&A session with the audience, which focused on her attitude of openness and willingness to hear from regulated entities.
The Forum also included a dialogue with Ohio EPA Director Craig Butler, who spoke at length about emerging issues like per- and polyfluoroalkyl substances (PFAS), and ongoing work on nutrients in Lake Erie and across the state. Another panel featured a discussion with environmental NGOs from across the region, focused on how collaboration between NGOs and clean water agencies can lead to success. The second day of the Forum included a panel of leaders from the clean water sector focused on challenges and innovation in the Region. This was followed by a lengthy roundtable discussion among the gathered utility leaders that centered on a variety of issues, particularly workforce development and affordability.
NACWA regularly holds regional forums to create an opportunity for discussion of issues and peer-to-peer connection. If you would like to learn more about our state and regional meetings, please contact Erica Spitzig, NACWA Deputy General Counsel.