NACWA a Proud Supporter of Infrastructure Week, May 14-21
May 9, 2018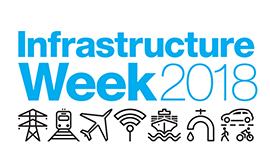 (May 9, 2018) - Collaborative advocacy in the clean water sector continues with Infrastructure Week (May 14-21) – a national week of events, media outreach/coverage, public education, and other activities which elevate Infrastructure as a critical public affairs issue that impacts all Americans.
NACWA is proud to be a participating organization in Infrastructure Week along with several hundred other associations, businesses and organizations. NACWA strongly believes that clean water must be a key facet of any and all public infrastructure discussions, and encourages all clean water agencies to consider reaching out to their elected officials during the week of May 14 – a great time to invite officials to a facility tour or onsite meeting!
NACWA's Congressional Toolbox was designed to help in setting up a Congressional tour or meeting if this is new to your facility – check it out today! Infrastructure Week social media "shareable content" is also available for easy use at the event website.