NACWA Security & Emergency Preparedness Committee to Discuss Hurricane Recovery on May 21
May 1, 2018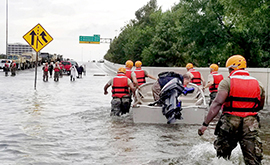 (May 1, 2018) - The NACWA Security and Emergency Preparedness Committee will have a web meeting on May 21, 2:00-3:15 pm ET, to focus on how Texas utilities recovered from Hurricane Harvey.
Mike Howe, Executive Director of Texas AWWA, will give a presentation, "Recovering from Harvey: What Worked and Lessons Learned," followed by a discussion with the Committee. The analysis of Harvey will help utilities that are preparing for the 2018 hurricane season, which reportedly begins next month.
For utilities not subject to hurricanes, the lessons from Harvey will also be beneficial in the process of planning for, and responding to, other disasters. All NACWA members are welcome to join the meeting.
Please contact Cynthia Finley, NACWA Director of Regulatory Affairs, for information on how to participate in the meeting.