New Report Examines Challenges of Great Lakes Water Assets
Mar 13, 2018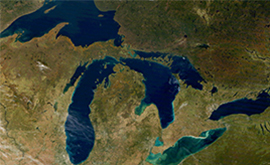 (March 13, 2018) - During a congressional briefing on March 6, the US Water Alliance (USWA) released a new report, An Equitable Water Future: Opportunities for the Great Lakes Region, that lays out an agenda for creating more equitable water systems in the Great Lakes region.
Building on USWA's national water equity briefing paper, the new report takes an in-depth look at the Great Lakes, a region with abundant water assets that also faces serious equity challenges including failing infrastructure, the impacts of a changing climate, lead in water, affordability, workforce inclusion, and more.
An Equitable Water Future provides an action-oriented framework for all stakeholders to understand their role in making our water systems more inclusive (full report here). The report, supported by the Joyce Foundation, the Kresge Foundation, and the Charles Stewart Mott Foundation, was released during a congressional briefing hosted by USWA and the Northeast-Midwest Institute.