Infrastructure Working Group Meets with White House Infrastructure Lead
Feb 27, 2018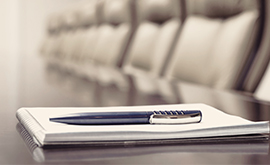 (February 27, 2018) – NACWA participated in meeting of the Infrastructure Working Group last week -- a collaborative effort led by the Associated General Contractors (AGC) and the National Association of Manufacturers (NAM). This month's roundtable discussion featured Alex Herrgott, Associate Director for Infrastructure at the Council on Environmental Quality (CEQ), who discussed details of President Trump's recently released infrastructure plan and Congress' role in crafting the proposal into a comprehensive legislative infrastructure package. The meeting provided an opportunity to discuss the importance of ensuring that any legislation moving forward includes clean water as a key component.
Earlier this year, NACWA joined the Working Group in sending a letter to congressional leadership encouraging Congress to develop and advance a bipartisan infrastructure investment package that will transform U.S. infrastructure beyond the status quo. NACWA joined over 100 Working Group members on this strong showing of broad support for forging ahead on an infrastructure package.
NACWA plans to continue engaging with the Working Group on joint congressional outreach in the coming weeks. Please contact Jason Isakovic or Kristina Surfus, NACWA's Legislative Directors, to discuss further.