Congress Approves Budget Deal to Keep Federal Government Open and Increase Spending
Feb 13, 2018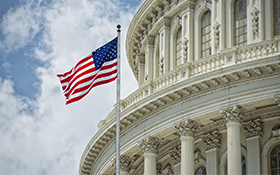 (February 13, 2018) - Shortly after government funding expired the morning of Friday, February 9, Congress passed, and the President signed into law, a sweeping budget deal that will increase current discretionary federal spending caps for domestic and defense programs by $300 billion over the next two fiscal years, and keep the Federal Government funded until March 23. This next funding deadline in March provides Congress additional time to finalize a full-year omnibus appropriations bill under the newly ratified spending limits. In the meantime, all federal agencies will continue to operate at Fiscal Year 2017 (FY17) spending levels, as they have done through a series of Congressionally passed Continuing Resolutions (CR). These Resolutions have been temporarily extending government funding since October 1, the beginning of FY18.
Under the budget deal, domestic spending will increase by $141 billion over the next two fiscal years. Congressional leadership reportedly made a commitment to provide $20 billion of that amount on infrastructure, including for clean and safe drinking water and rural water and wastewater needs. Additionally, Rep. Calvert (R-CA), Chairman of the House Interior & Environment Appropriations subcommittee which oversees EPA spending, stated that several EPA grant programs would get a "strong look" for additional funds through bipartisan negotiations.
This budget deal also provided nearly $90 billion in disaster aid for states impacted by Hurricanes Harvey, Irma, and Maria. Over $165 million of the funds are for rural utility grants, used to repair sewer and drinking water systems. Language was also included in the deal allowing for existing State Revolving Funds (SRFs) to not be subject to matching or cost share requirements, and to allow for additional subsidization for eligible projects that are for the purpose of repairing damage from these hurricanes.
NACWA will continue its advocacy to ensure that, as Congress crafts the omnibus appropriations bill over the next several weeks, strong federal funding is dedicated to clean water programs.
Please contact Jason Isakovic, NACWA's Legislative Director, to discuss further.