NACWA Discusses Top Issues with Wastewater Office Director
Jan 9, 2018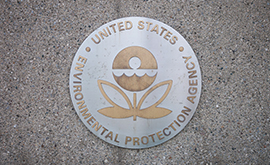 NACWA met with Andrew Sawyers, Director of the Office of Wastewater Management, and key staff December 19, to discuss a range of issues including many that will top NACWA's advocacy agenda in 2018.
An outgrowth of NACWA's work with EPA on the regulatory improvement front, EPA thanked NACWA for its comments and feedback on needed areas of reform in the Clean Water State Revolving Fund (SRF) program. Among other issues, the Association's comment letter noted that much of the burden associated with the SRF process is due to state-imposed requirements that go beyond the federal program. EPA stressed that it strives to provide maximum flexibility to the states to tailor their programs as they deem necessary, but committed to helping work on improving the federal elements of the program to reduce burden.
On infrastructure funding, NACWA briefed EPA on its engagement on a number of legislative proposals that could impact the SRF and WIFIA programs and discussed how the tax reform package would affect the Association's members. EPA acknowledged the recent National Academy of Public Administration (NAPA) report on affordability, which underscores many of the concerns NACWA has been raising for more than a decade, but stressed that the Agency was inclined to wait until directed by Congress before making any changes to its affordability guidance.
On the issue of utility governance, including consolidation, regionalization, partnerships and peer-to-peer, EPA's Water Infrastructure Resiliency and Finance Center will be taking the lead on those topics. NACWA will remain engaged with EPA on this going forward. Much of what the Office of Water is doing will be slowed down a bit as they work to brief their newly confirmed Assistant Administrator, David Ross. Ross was sworn in on January 8, and staff will be working over the coming weeks to brief him on all the various issues. NACWA has requested a meeting with Ross and will be sitting down with him and his team soon.