NACWA Legal Webinar Addresses Resiliency Issues, CWA & CAA Nexus
Dec 19, 2017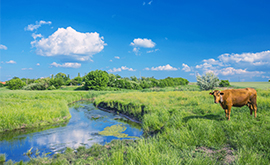 (December 19, 2017) – NACWA hosted the final 2017 installment of the Hot Topics in Clean Water Law webinar series on December 13. The webinar featured a panel of expert clean water attorneys, with discussion focused intersections between the clean air act and clean water act, and resiliency planning for the clean water sector.
Emily Jackson, Environmental Regulatory Counsel for NACWA Member Agency Metro Wastewater Reclamation District in Denver, CO presented Clean Air Act Impacts at Wastewater Utilities, and discussed examples of Clean Air Act obligations and implications for utilities, while also discussing opportunities for innovation and collaboration. Jeffrey Knight, Partner at NACWA Legal Affiliate Pillsbury Winthrop Shaw & Pittman LLP, focused on the current status and future prospects of the Clean Power Plan and the likely direction of CO2 regulation and litigation in the Trump EPA in his presentation Hot Topics in Clean Air Act Regulation.
Margaret Peloso, Counsel with NACWA Legal Affiliate Vinson & Elkins, presented Resiliency Planning in a Changing Political Climate, focused on climate change risk management in the changing regulatory environment and climate change adaptation issues.
NACWA encourages members interested in these and other legal issues to join the Legal Affairs Committee. The next Hot Topics in Clean Water Law webinar is scheduled for March 7, 2018 from 2:00-3:30 pm ET. Members are encouraged to submit potential topics to Erica Spitzig or Amanda Waters.