NACWA Participates in Congressional Infrastructure Roundtable
Nov 21, 2017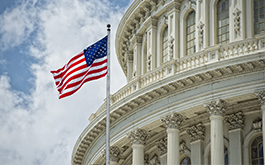 (November 21, 2017) – NACWA participated in a roundtable discussion on November 14, led by Congressional Members of the bipartisan Problem Solvers Caucus Infrastructure Taskforce, on ways to modernize and meet the nation's critical infrastructure needs. Members of Congress participating in the roundtable included Taskforce Co-Chairs Reps. John Katko (R-NY) and Elizabeth Etsy (D-CT), as well as Reps. Daniel Lipinski (D-IL), John Faso (R-NY), Jacky Rosen (R-NV), and Thomas Suozzi (D-NY). Among the participating stakeholders, NACWA was joined by the Associated General Contractors (AGC), the National Association of Manufacturers (NAM), and the Brookings Institution.
The open roundtable provided NACWA the opportunity to discuss ways to achieve a 21st-century water infrastructure network through greater investments, Clean Water Act reforms, and innovative ways to help communities long and short-term. These approaches will be key moving forward as the taskforce develops their list of principals to help lay the groundwork for a comprehensive legislative infrastructure package.
NACWA thanks the taskforce for their time and consideration and looks forward to continued collaboration. Please contact Jason Isakovic or Kristina Surfus, NACWA's legislative staff, to discuss further.