NACWA Welcomes New Legislative Staff
Nov 14, 2017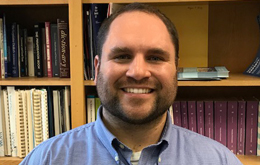 (November 14, 2017) - NACWA is pleased to welcome Jason Isakovic to its staff this week, as the Association's second Director of Legislative Affairs. Jason comes to NACWA with nearly ten years of experience working on legislative issues on Capitol Hill, most recently serving as Legislative Director for Rep. Bob Latta (R-OH). Jason also worked with the late Sen. George Voinovich (R-OH).
Jason is very familiar with many of the Association's key legislative priorities, including affordability and integrated planning, and will be working closely alongside NACWA's current Director of Legislative Affairs, Kristina Surfus, to help advance the Association's legislative advocacy priorities. He can be reached at 202-533-1823 and JIsakovic@nacwa.org.
Please join us in welcoming Jason to the NACWA team!