NACWA Provides National Energy Update to Michigan WEA
Oct 24, 2017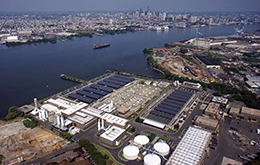 (October 24, 2017) - The Michigan Water Environment Association (MWEA) held its Sustainable Energy Seminar on October 19, focusing on how clean water agencies are improving energy efficiency and energy recovery at their facilities. Michigan utilities provided examples of their progress in this area, with a wide variety of methods being employed to move facilities towards energy independence and to reduce utility costs.
NACWA's Director of Regulatory Affairs, Cynthia Finley, provided an update on NACWA's activities in the energy arena, including advocacy on national legislation and the Renewable Fuel Standard. Discussions with the Department of Energy (DOE) were also highlighted, along with programs administered by DOE that NACWA members have participated in and found beneficial.
NACWA's Energy Workgroup provides a forum for NACWA members to discuss energy issues and to learn from one another, as well as generating input to the Association on important areas of advocacy focus. To join the NACWA Energy Workgroup, contact Oliver Hamilton, Manager, Government Affairs.