Congress Looks to Advance Tax Reform, Infrastructure Funding
Oct 3, 2017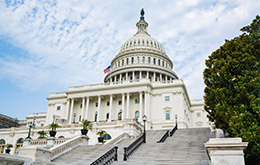 (October 3, 2017) - Both the Senate and House will look to make progress this week in advancing a Fiscal Year 2018 (FY18) Budget Resolution. While FY18 is already underway, a Resolution is procedurally needed so that Congress can pursue tax reform with only simple majority support, rather than the higher and bipartisan threshold of 60 votes in the Senate.
The White House and top Republican congressional leadership released additional guidelines for tax reform last week. Crucially, the tax exemption for municipal bonds – a top priority for municipal water and wastewater – was not targeted for elimination or reduction in the new guidance. NACWA will remain vigilant and continue outreach with our partners on this issue as tax reform discussions continue through the Fall.
NACWA has also continued meeting with Members of Congress and staff regarding development of an infrastructure package. In the House, a series of hearings are underway, including one focused on clean water infrastructure at which NACWA's Vice President, David St. Pierre, testified. In the Senate, the Committees of Jurisdiction are working toward bill introduction, which is imminent.
For more information, please contact Kristina Surfus, NACWA's Legislative Affairs Director.