NACWA Staff Explore DC Water's Underground CSO Tunnel
Sep 19, 2017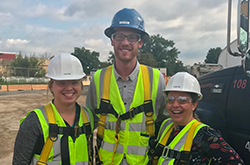 (September 19, 2017) - At the crest of the brief ride in the cramped "man-cage," NACWA staff was met with a striking duality: On one side, the verdant banks of the Anacostia River, and beneath them the sheer 110-foot drop into the Anacostia River Tunnel.
Last week, NACWA staff had the incredible opportunity to visit DC Water's recently constructed Anacostia River Tunnel, which is part of the larger Clean Rivers Project. Under this initiative, DC Water projects major reductions (upwards of 95%) in CSO volume into the Anacostia River using a combination of subterranean tunnels and green infrastructure. Taken together, the Anacostia River's and Potomac River's 23-foot diameter tunnel systems will stretch more than 18 miles around the DC metro area.
According to DC Water officials, the Anacostia River Tunnel will be operational within the next year, making this trip especially unique because the system was still relatively dry. NACWA would like to thank the individuals from DC Water and contractors for allowing staff to see this forward-thinking project that will keep our backyard watershed clean well into the future.