Nomination for EPA Water Post Announced
Sep 5, 2017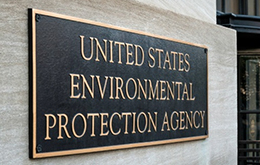 The Trump Administration has officially announced David Ross as its nominee to be Assistant Administrator for Water. Pending Senate confirmation, Ross would lead the water office and have responsibility for many of the Agency's water-related initiatives.
Ross is currently the Director of the Environmental Protection Unit for the Wisconsin Department of Justice. He also previously served as a senior assistant attorney general in the Wyoming Attorney General's Office, where he represented the Wyoming Department of Environmental Quality on water quality matters. In addition, Ross has significant experience working as an attorney in the private sector on water and other environmental issues.
Ross has won bipartisan praise from many environmental officials, and NACWA congratulates Ross on his nomination. The Association looks forward to working with him to advance NACWA's clean water priorities pending Senate confirmation.