Member Spotlight
WSSC Water's Creative Virtual Platform Brings the Wastewater Treatment Experience to Local Classrooms
Sep 13, 2023
WSSC Water is among the nation's largest water and wastewater utilities, serving 1.9 million residents in Prince George's and Montgomery Counties in Maryland. The bi-county utility is not only committed to providing safe and reliable drinking water to its customers while protecting the environment, but it is also dedicated to educating local schools on the vital role of water and wastewater utilities. WSSC Water shares its clean water mission with over 2,000 students and 100 educators annually. While those are impressive numbers, its service area is home to two of the largest school districts in Maryland, with over 400 public schools serving almost 300,000 students. WSSC Water was challenged keeping up with the demand for school programming and providing opportunities for student plant tours, so they sought a creative solution.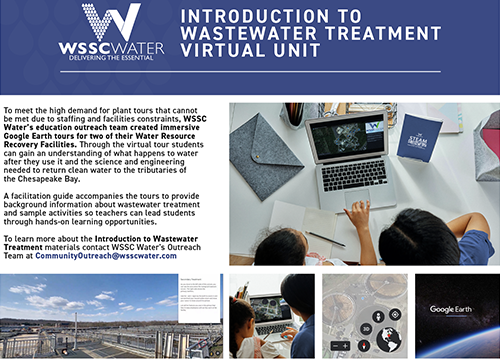 WSSC Water's Education Outreach team created immersive Google Earth tours for two of their Water Resource Recovery Facilities - formerly known as wastewater treatment plants - to meet the high demand for plant tours impeded due to staffing and facility restrictions. The virtual platform allows students to explore all aspects of the plant and learn about the wastewater treatment process from the comfort of their classroom or home.
Thanks to 360-degree photos and Google satellite images, students can understand what happens to water after use and the science and engineering needed to return clean water to the tributaries of Chesapeake Bay. At the request of educators, WSSC Water also developed a facilitation guide to provide more in-depth information about wastewater treatment and sample activities for a more hands-on learning experience. Local educators reviewed all materials to ensure they met state standards.
WSSC Water's Education Outreach team learned about using Google Earth Projects through a workshop hosted by NOAA's Environmental Sciences Training Center and the American Geoscience Institute. The virtual tours were a success due to the assistance and expertise of plant staff, who ensured all content was accurate. The "Introduction to Wastewater Treatment" materials are accessible to those who request access via WSSC Water's website: https://www.wsscwater.com/educationoutreach.
NACWA awarded WSSC Water a 2023 National Environmental Achievement Award in the Public Information & Education: Educational Program category for its creative and effective educational platform. Congratulations to everyone involved!