Member Spotlight
Collaborative Project from the Metropolitan St. Louis Sewer District Provides Valuable Data to Health Leaders
Jul 27, 2023
The Metropolitan St. Louis Sewer District is one of many partners working together with the Missouri Department of Natural Resources (DNR) and the University of Missouri-Columbia, to provide public health authorities with a valuable tool for monitoring COVID-19 outbreaks throughout Missouri.
The Missouri Coronavirus Sewershed Surveillance Project (CSSP) uses wastewater samples to identify comprehensive data on COVID-19 levels in the community. Wastewater testing involves collecting samples from treatment plants, filtering and processing the samples, and measuring trace levels of COVID-19 genetic materials.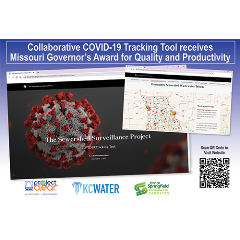 As NACWA members know, wastewater trends often track with other data sources, including confirmed cases and hospitalizations, however, wastewater testing data differs in several keyways. It can be a leading indicator, giving public health agencies up to four to six days of lead time for infection rate data. It also offers a more comprehensive picture of COVID-19 cases throughout the community because it does not rely on individual testing data. Nearly everyone uses sewers regardless of their zip code or their access to testing and healthcare.
In addition to providing valuable data to public health leaders, information from the CSSP has also been publicly available since January 2021 through an online Storymap where visitors can view weekly COVID-19 transmission and variant trends from each of the 86 participating wastewater treatment plants.
Leadership from state and local partners was key to making this project successful. Missouri was one of the first states to initiate this type of testing in May 2020, and this is one of the largest-scale projects in the U.S. Data is updated weekly on the state's website. The collaboration has been nominated for the Missouri Governor's Award for Quality and Productivity.
NACWA awarded the Metropolitan St. Louis Sewer District a 2023 National Environmental Achievement Award in the Public Service category for its leadership in this valuable collaborative project. Congratulations to everyone involved!