Member Spotlight
Renewable Water Resources' Dig Greenville Infrastructure Project Has Positive Impact on the Environment
Jun 14, 2023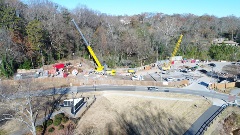 Renewable Water Resources' (ReWa's) wastewater infrastructure project Dig Grenville is designed to increase existing sewer capacity to protect the environment by mitigating overflows to the Reedy River during wet weather events for the next 100 years.
The Dig Greenville tunnel facilitates responsible residential and industrial growth within the service area and promotes social and economic advancement in the Greenville region through environmental stewardship and responsible development. The project includes a 1.1-mile long, 11-foot diameter tunnel excavated approximately 100 feet beneath the Greenville business district. Inside the tunnel, a fiberglass carrier pipe with a 7-foot diameter conveys wastewater and contains a 30-foot access shaft, a 100-foot drop shaft, and other components.
Various alternatives, inluding a storage reservoir, micro tunnel/open-cut construction, and deep tunnel construction, were evaluated to achieve the project's overall goal. However, ReWa selected the deep tunnel option as the most cost-effective solution while minimizing disruption to Greenville's business district and green spaces. With environmental protection and compliance as a top priority and purpose, the project includes an odor control system and an environmental monitoring plan that continuously monitors noise, dust, and vibrations.
Planning efforts for Dig Greenville included evaluating geologic conditions and tunneling implications, as well as managing the response of the Greenville community to an unfamiliar construction project adjacent to high-profile green space and residential communities. After encountering unexpected geologic conditions along the tunnel alignment during construction, the project team collaborated to address difficult mining conditions and engaged the community to minimize impacts.
Dig Greenville highlights the successful integration of planning and design, community engagement, continuous construction coordination, and adaptability for successfully delivering a complex infrastructure project. Along with ReWa, the team included Black & Veatch as the design engineer and construction manager, Super Excavators / CMCRA JV as the construction contractor, and Bunnell Lammons Engineering as a consultant. The project commenced in March 2018, and the tunnel was placed into operation in September 2021.
NACWA awarded Renewable Water Resources a 2023 National Environmental Achievement Award in the Operations & Environmental Performance category for their successful Dig Greenville project. Congratulations to everyone involved!