Member Spotlight
Beckley Sanitary Board's Collaborative Project Generates Future Water Professionals
May 17, 2023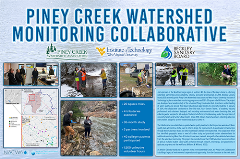 In Beckley, WV, creek banks are becoming places for watershed education. Thanks to a collaborative effort among three watershed partners, students and other community members are now involved in year-round hands-on learning on Beckley's urban streams. The thriving partnership among NACWA Member Beckley Sanitary Board, Piney Creek Watershed Association and West Virginia University Institute of Technology (WVU Tech) has sustained an ongoing effort to collect and analyze water samples from 22 sites across a 20 square mile area, once a month for more than three years.
The partnership grew around the challenge to gain a better understanding of the health of Beckley's urban watershed, while providing consistent hands-on ways for students to be involved in research. The collaborative project began in late 2018, when partners developed stream sampling training for WVU Tech students and other volunteers, equipping attendees with safety training, sampling and laboratory technique, and data organization. Each sampling team was composed of one or more students, paired with a professor or other community volunteer. These newly trained "Stream Teams" were put to the test in January of 2019, when four teams deployed across the 20 square mile watershed, collecting samples in nine-degree weather. Undeterred by their frozen debut, volunteers regrouped in February, and monthly water sampling has been occurring ever since.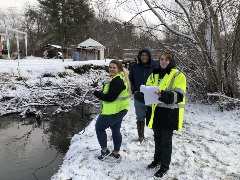 In 2022, with more than three years' worth of monthly stream sampling completed, professors from WVU Tech compiled a technical report showing spatial and seasonal trends in water quality. The report serves as a watershed health baseline, highlighting the places and seasons where water pollution occurs more frequently and concluding with recommendations for future work.
The Piney Creek Collaborative project has provided an opportunity for more than 40 students to gain watershed research experience and has helped many advances in their career path. From January of 2019 to December of 2021, students have logged more than 1500 volunteer hours, an estimated $40,000 value. Students have leveraged their experience with the Piney Creek Collaborative to secure internships, gain employment in related fields, and help achieve placements in graduate and professional programs. As Stream Team graduates are sent into new communities and new opportunities, they carry with them a watershed perspective, cultivated among the people and streams of Beckley, WV. The Piney Creek Collaborative continues to build a legacy of environmental partnership and opportunity, from the classroom to the creek bank.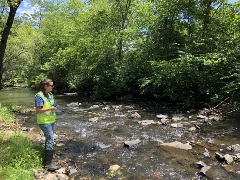 NACWA awarded the Beckley Sanitary Board a 2023 National Environmental Achievement Award in the Watershed Collaboration category for their innovative project. Congratulations to everyone involved!